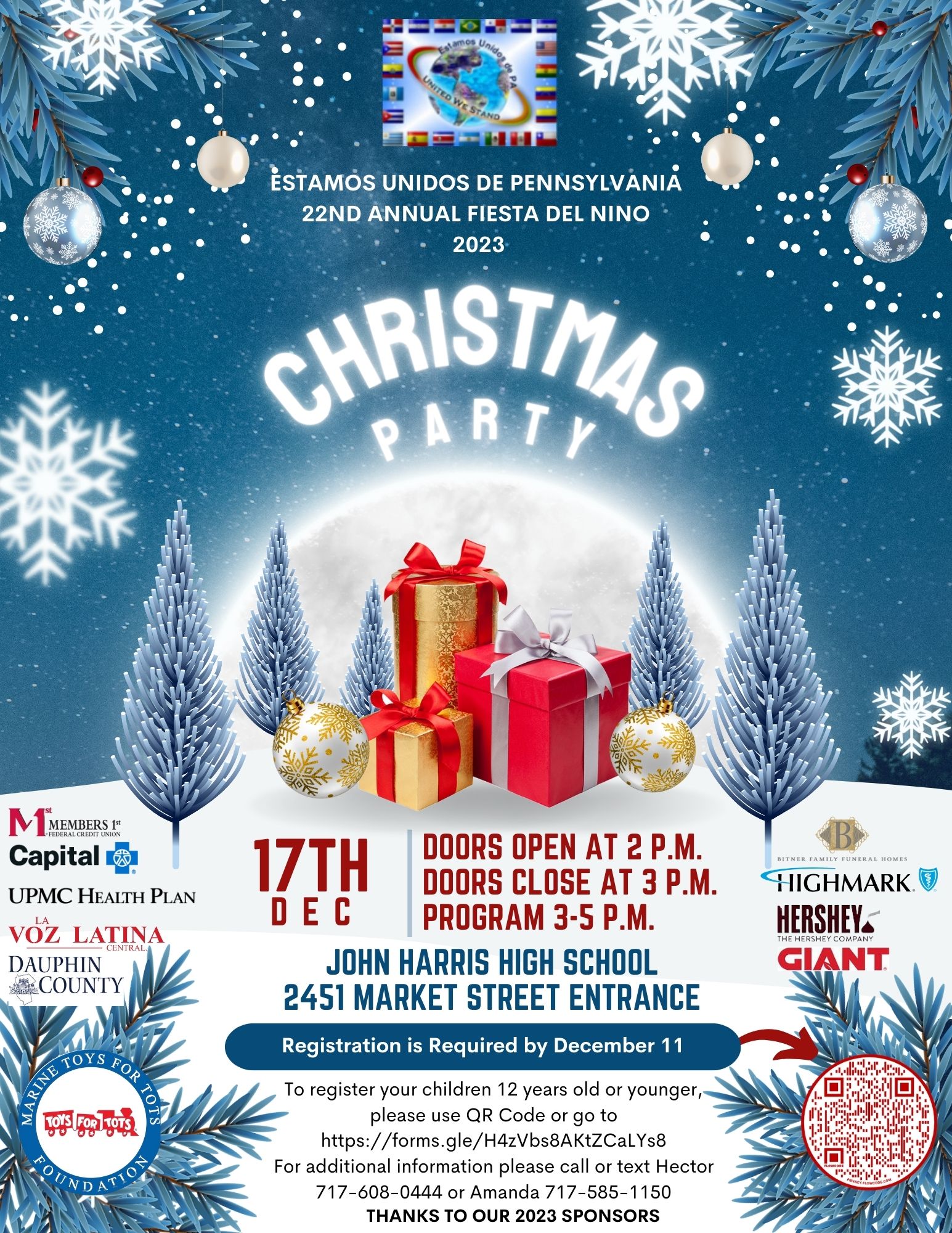 Estamos Unidos de Pennsylvania 2023 Annual Fiesta del Niño 22nd Children's Christmas Party
204
204 people viewed this event.
Estamos Unidos de Pennsylvania is proud to announce its 22nd annual "Fiesta Del Niño – Children's Christmas Party." Estamos Unidos will once again host this Christmas event for inner-city families on Sunday, December 17, 2023, at John Harris High (2451 Market Street. Harrisburg, PA 17103) from 2:00 p.m. to 6:00 p.m.
Please see the flyer and register your children accordingly. Please provide all the information required by calling, texting, or emailing the information required in the flyer.
At any given year, we provided gifts, food, joy, and a cultural learning experience of holiday, family, and tradition to over 1,400 individuals (800 children and 600 family members). Each year our number of participants continues to increase. This event is held rain or shine, even if it snows!
We are looking forward to seeing you at John Harris High School at 2:00 pm. A light lunch is provided and only people registered are allowed. Please register your children under 12 years old ASAP.  Please share the parent's name and last name, children's gender, and age. The registration closes when the seats are filled or by Dec. 11, 2023. Please click the button below to register:  
Please come between 2:00 and 2:30 pm. Doors will close at 3:00 pm. The program runs from 2:00 to 5:00 pm. Please arrive early. Children must be present to receive the gifts. Thanks in advance for your consideration. 
If would you like to be a Volunteer, please click the button below!
Additional Details
Sponsors -